Callus
Callous is the name given to an area of skin that has thickened as a result of pressure and friction. Callous can be painful and unattractive, but it can also impair function and prevent you from doing the things you want to do. If left untreated callous can damage the underlying structures and lead to ulceration. Your podiatrist can remove the callous and address the underlying cause.
What is callous?
A callous is an area of thickened skin (hyperkeratosis). It is the body's way of protecting the underlying structures from repeated compressive forces and friction. Callouses are larger than corns and do not have a nucleus, they often appear yellow and will feel rough to the touch. Sometimes a corn may be surrounded by a large area of callus. Commonly callosities are seen on the ball of the foot (metatarsal heads). If a callus is left for a long period of time an ulcer can appear underneath it. An ulcer is an area of tissue breakdown, which in this instance is caused by the excessive pressure the callous places on the underlying tissue. Diabetics are most at risk of this type of ulcer ' particularly if neuropathic.
What causes callus?
Callous, like corns, occur as a result of excessive pressure and friction. Causes of callous include:
Ill-fitting footwear
High heeled shoes
Poor foot and lower limb mechanics
Doing lots of activity on your feet
Loss of fatty pad
Medical conditions that can affect the shape of the foot, for example, rheumatoid arthritis. The altered shape can mean that high pressure areas are created, leading to callous formation.
What are the signs and symptoms of callous?
The signs and symptoms of callous may include:
Burning/smarting sensation
Yellow in colour
Rough to the touch
Pain when weight-bearing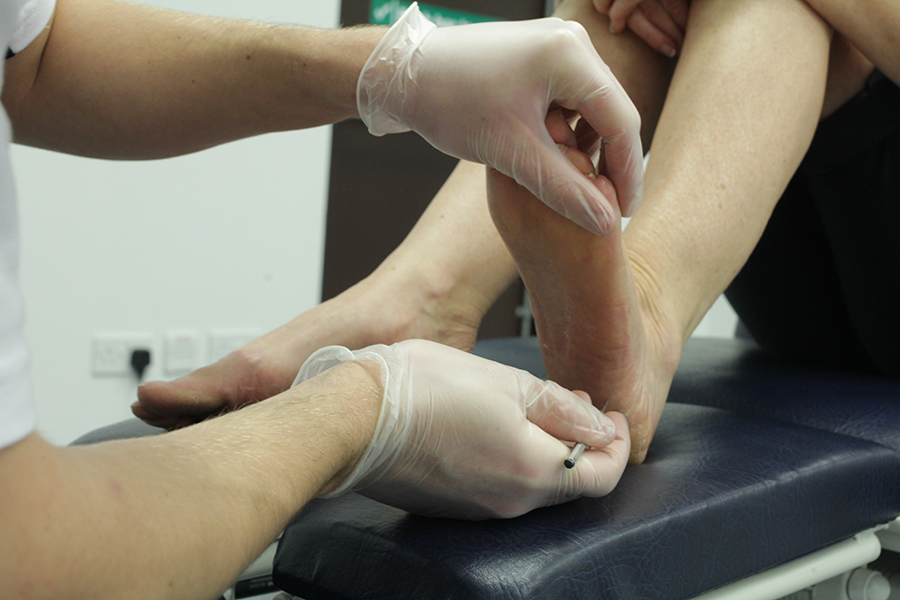 Types of callous
Callous can be the following:
Localised (covers a small area)
Diffuse (covers a large area)
Fissured (cracks that appear on the heel as a result of tensile stress)
Benefits of podiatry for callous
If you have callous Chiropody.co.uk can help you. The following benefits can be achieved following treatment for callous at Chiropody.co.uk:
Immediate relief from pain
Improved comfort
Improved foot function
Improved gait
Improved skin condition
Improved appearance of the skin
Reduced risk of ulceration and infection
Your podiatrist will remove the callous, which will relieve any pain that has occurred as a result. Once the pain has gone, any altered function that has occurred in response to the callous forming should be resolved.
To prevent re-occurrence of your callous your podiatrist may recommend a Biomechanical assessments.
If an ulcer is revealed beneath the callous your podiatrist will provide an appropriate dressing and will off-load the area to prevent further trauma. Ulcers must be monitored regularly to assess their healing and prevent further deterioration.
What does podiatry for callous involve?
Your podiatrist will take a medical and social history, they will then perform a foot examination. The reason why your callous has developed will be specific to you, therefore what happens next is dependent upon the cause, and what you, the patient would like to achieve.
The most common method of callous removal is done painlessly with a blade, this is called sharp debridement. The removal of callous is only temporary and will re-appear if the underlying cause is not treated. Your podiatrist will therefore provide advice on pressure reduction, emollient therapy, and footwear, and if necessary, you will be referred for a Biomechanical assessments. The purpose of the biomechanical assessment is to provide Orthoses, which will reduce and redistribute the pressure away from the structure where the callous has formed; this will prevent the callous from returning.
Other callous treatments include:
Callous treatment
Padding
Cushioning
Emollient therapy
It is important to NEVER try sharp debridement yourself. Podiatrists are highly trained specialists.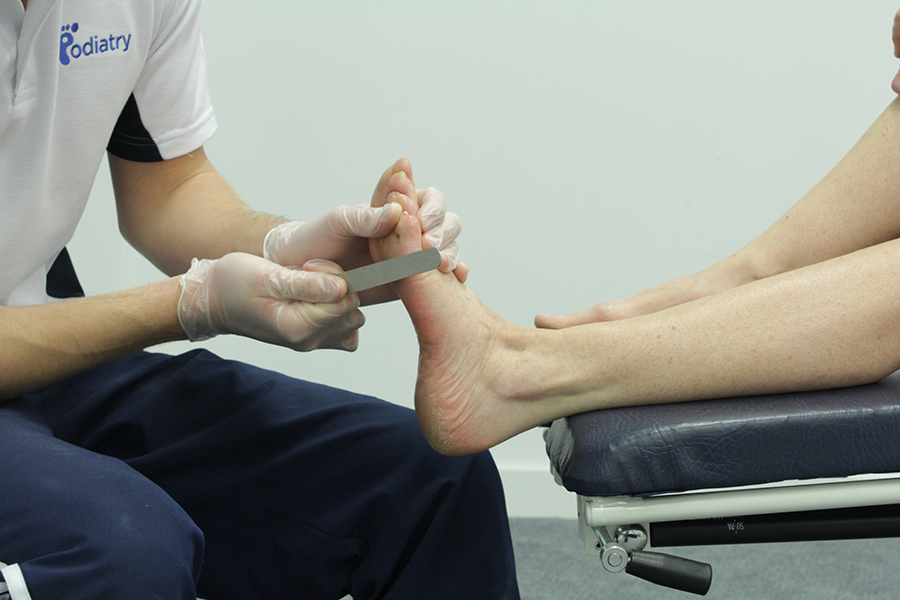 Summary
Callous occurs in response to excessive compressive forces and friction due to, for example, ill-fitting footwear, high heeled shoes, poor biomechanics, doing lots of activity on your feet, and the loss of the fatty pad. As a result it is often observed on the ball of the foot. Callous can be painful and can also impair function. A podiatrist can remove the callous and provide information and advice on how to prevent it from re-occurring, You may require a biomechanical assessment and orthoses.
To arrange an assessment with one our podiatrists please email office@chiropody.co.uk or call 0330 088 4222.
Take a look at some of our previous patients:
Save 5% by booking an appointment online.

Find your nearest clinic
We have clinics located throughout the North West. We also provide a home visit service.
Find out more »

No waiting lists!
Tired of waiting for treatment? Be seen by a podiatrist today!
Find out more »

Not sure how we can help?
Speak to a podiatrist to find out how we can help. Call us on
0330 088 4222
.
Find out more »
We work with:

Individuals

Organisations

Health professionals
Get in Touch!

0330 088 4222

If you would like to speak to one of our specialists then please complete this form.
We are open 7 days a week