Advice and education
Advice and education in biomechanical podiatry can take many forms. A patient may require advice on the correct footwear following injury or trauma, advice may be given on the correct course of action to take when injury has occurred or how to prevent further problems occurring. The following are some examples of advice and education you may receive within biomechanical podiatry;
Injury Prevention
Injury can occur to the foot and lower limb when those areas are put under repetitive amounts of stress due to issues relating to a patient's biomechanical function. Injury may also occur when there are weaknesses in the structure of the affected area or as a result of inappropriate footwear. A podiatrist can carry out a biomechanical assessment on a patient and from the results of this advice the patient on whether measures are needed in order to prevent injury from occurring. These measures may include the use of custom made orthotics or footwear advice. Advice may also be provided on appropriate strengthening exercises to support muscle groups and prevent damage from occurring in these areas.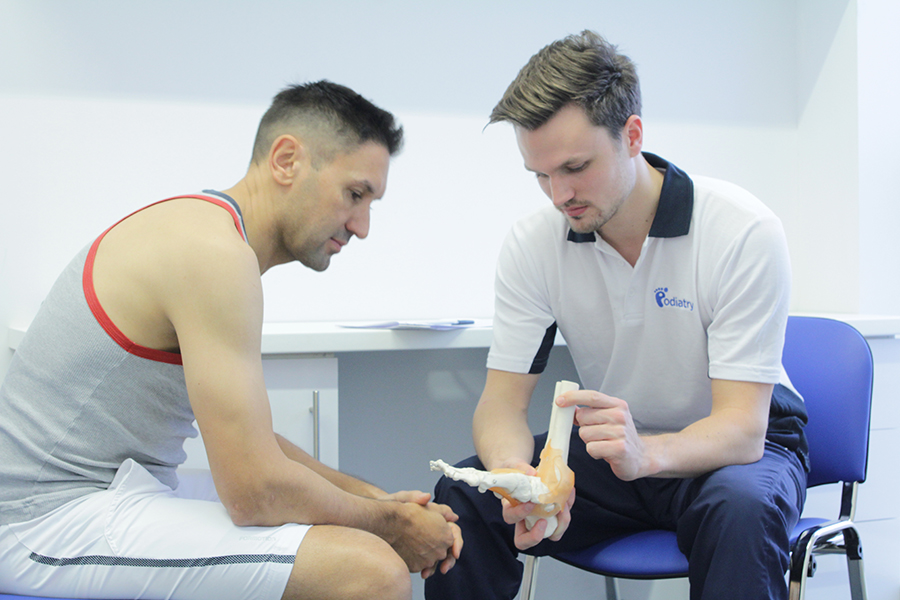 Acute management of injury
Advice can be provided by a podiatrist on how to manage an injury during its initial stages. The PRICE principle can be adopted when an injury occurs; Protection ' the type of protection required will depend on the area that is injured. Forms of protection can include crutches, a protective dressing or tape. The purpose of this protection is to defend against further injury. An example of this in podiatry is the use of an ankle brace, which holds the ankle, preventing further damage caused by movement. Rest - this is to enable the natural process of healing to occur without be hampered by movement. Movement of the affected area can cause an increase in blood flow which can result in further loss of healthy cells or greater amounts of swelling. Ice ' this can work to decrease any swelling and inflammation at the injury site. Compression ' this can be applied to an injured area in the form of a wrap or bandage, working as a functional barrier to minimise any swelling. Elevation ' raising the area immediately after injury occurs is important in order to reduce blood flow around the muscle which can remove healthy as well as unhealthy cells, causing more damage. Elevation can also work to minimise swelling.
Footwear advice
Wearing the right fitting footwear is an essential part of good foot health. It can be an extremely effective tool in the treatment plan of patients suffering from various conditions related to the foot and lower limb, as well as a preventative measure in the development of further problems. When advice is being given on the correct type of footwear, the podiatrist will look at the design of the shoe, assessing factors such as the size, the fastenings and the width. For more information on the correct footwear and footwear assessments, see Footwear review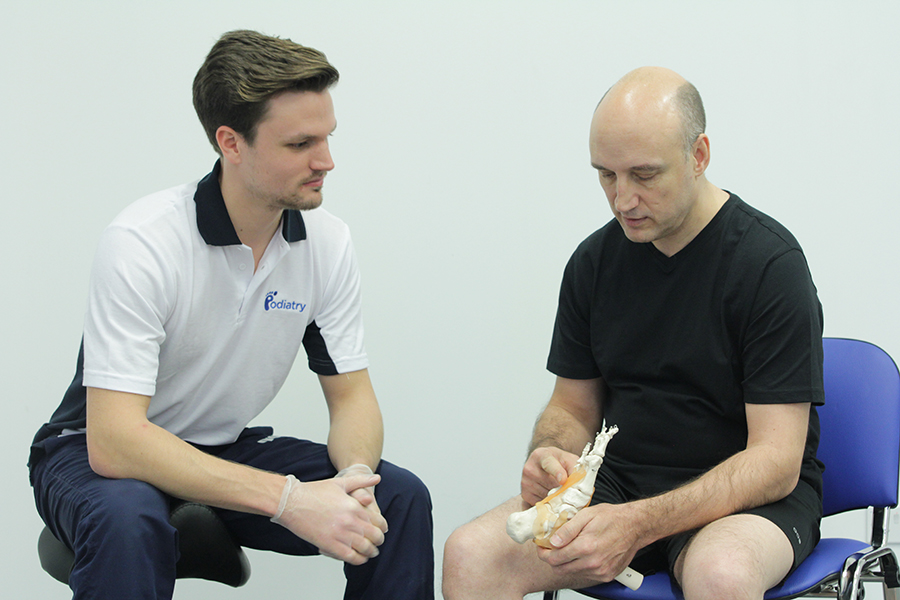 Rehabilitation following injury
When an injury occurs in the foot and lower limb, a podiatrist will provide advice on whether a break from activity is recommended. Advice may also be provided on personalised strengthening programs to improve healing rates and reduce recovery times.
The podiatrist will ensure that appropriate education has been given on the rehab plan itself and will provide time frames in which to return to activity.
To receive advice on any problem related to biomechanical podiatry please e-mail office@chiropody.co.uk or call 0330 088 4222.
Save 5% by booking an appointment online.

Find your nearest clinic
We have clinics located throughout the North West. We also provide a home visit service.
Find out more »

No waiting lists!
Tired of waiting for treatment? Be seen by a podiatrist today!
Find out more »

Not sure how we can help?
Speak to a podiatrist to find out how we can help. Call us on
0330 088 4222
.
Find out more »
We work with:

Individuals

Organisations

Health professionals
Get in Touch!

0330 088 4222

If you would like to speak to one of our specialists then please complete this form.
We are open 7 days a week