PACT® med fungal nail therapy
Download our PACT® Med fungal nail information pack

PACT
Med fungal Nail Therapy
What is PACT® med fungal nail therapy?
PACT® med fungal nail therapy is a revolutionary approach for the treatment of fungal nails of the toes and fingers.The PACT® Nail Fungus Gel is applied to the nails which makes the fungus susceptible to the PACT® lamp, this is then focussed onto the nail which destroys the fungal cells, and allows a new healthy nail to grow out. This treatment is painless and safe.
How does it work?
The two main components of this treatment are the the PACT® high-power LED lamp and PACT® Nail Fungus Gel (photosensitiser). The PACT® Nail Fungus Gel is applied to each nail for 10 minutes, this makes the fungal cell walls susceptible to the high wavelength of light to be applied, it does not affect human cells.
The PACT® Lamp is focussed on the affected nail which kills 99.9% of fungus. As it is targeted towards fungal cells, no skin or nail is damaged in the process.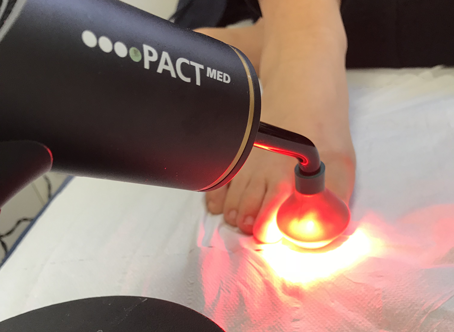 Who is it suitable for?
Those with a fungal toenail which is classified as mild to moderately infected. If the fungal infection is penetrating past the cuticle (matrix/nail root) area the effectiveness is significantly reduced. This is because there is a good portion of nail which is unseen, and lies beneath and proximal to the cuticle, this means the light cannot penetrate this area of infected nail.
Treatment
Prior to treatment an assessment is required with a podiatrist to confirm the diagnosis and determine the severity and extent of infection. At the assessment any relevant medical/social history will be noted and all treatment options will be discussed, to ensure that PACT® med fungal nail therapy is the right choice.. The podiatrist may need to confirm the problematic nail is fungal in nature, involving taking nail samples to take for microscopy and culture analysis, although often visual diagnosis and history is sufficient.
If you decide that PACT® med fungal nail therapy is the treatment for you, the podiatrist will reduce the thickness of the affected nails with a podiatry nail drill. This is to remove as much infected tissue as possible and aid penetration of the treatment.
After nail reduction, PACT® med fungal nail therapy therapy can begin at the next session, PACT® Nail Fungus Gel is applied to the nail for ten minutes, then the PACT® Lamp focusing beams of high wavelength light are directed onto the infected nail.
At least five treatments are required, the first three are within a one week period, then the following month, and then two months, some people may require further treatments. The length of each treatment is dependent on how many nails are affected.
Aftercare
It is important an aftercare regime is followed before, during and after treatment to prevent the risk of reinfection. The nail fungus should be treated from all aspects apart from the nail, as fungus can be present in your shoes and clothes. The podiatrist will thoroughly explain the measures to put in place to help prevent this at your assessment.
Any side effects?
There are no known contraindications therefore all ages may undergo treatment. Some patients report a slight tingling during/shortly after treatment, but this is not painful. The blue gel can stain the nail slightly.
Further treatment options include;
Anti-fungal treatments
Nail reduction
To arrange an appointment in one of our easily accessible clinics please email us on office@chiropody.co.uk or call one of our friendly reception staff on 0330 088 4222.
Take a look at one of our patients:
Save 5% by booking an appointment online.

Find your nearest clinic
We have clinics located throughout the North West. We also provide a home visit service.
Find out more »

No waiting lists!
Tired of waiting for treatment? Be seen by a podiatrist today!
Find out more »

Not sure how we can help?
Speak to a podiatrist to find out how we can help. Call us on
0330 088 4222
.
Find out more »
We work with:

Individuals

Organisations

Health professionals
Get in Touch!

0330 088 4222

If you would like to speak to one of our specialists then please complete this form.
We are open 7 days a week