In toeing
In-toeing refers to the position of a foot when the feet point inwards, sometimes this is also known as pigeon toed. Lots of children will have feet that in-toe, as it is a normal stage of development caused by bones in the leg which have yet to rotate. Children that in-toe often grow out of it as the bones rotate as the child matures.
What causes in-toeing?
In-toeing in children has three main causes, these include: Tibial torsion Tibial torsion refers to a twist in the tibia which is the larger of the two bones in the lower leg. Tibial torsion is perfectly normal and as the child grows the twist rotates. Femoral anteversion Femoral anteversion refers to a twist in the femur, which is the thigh bone. As with tibial torsion, this twist is normal and should disappear as the child grows and the bone rotates. Occasionally the bone does not fully rotate, which can be the cause of in-toeing later in life. Metatarsus adductus Metatarsus adductus refers to a foot that curves inward. The cause of the in-toeing is therefore from the foot itself and not something further up the leg as in tibial torsion or femoral anteversion.
What are the signs and symptoms of in-toeing?
Children that in-toe walk with their feet pointing inwards. When a child walks with their feet pointing inwards they can be more prone to tripping and falling, or may find certain activities more difficult. Children that in-toe can be more susceptible to callus and corns. The in-toeing position places extra pressure on structures of the foot that would not otherwise be under pressure, resulting in corns and callus.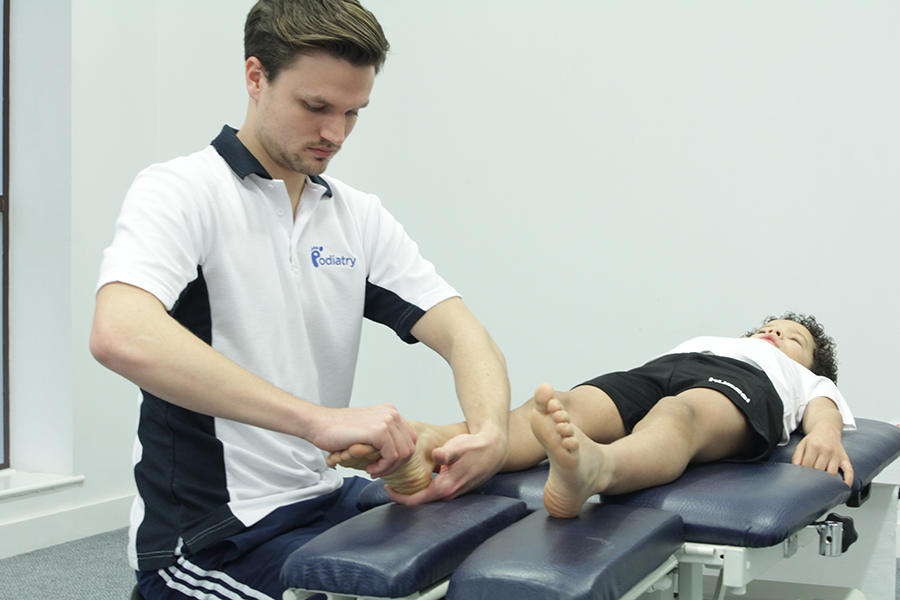 How is in-toeing diagnosed?
It is very easy to spot a child that is in-toeing, however, it is important that the cause is established so that if treatment is required this can be assessed. Our podiatrists at Chiropody.co.uk will be able to examine your child to establish the cause of them in-toeing and provide you with information and advice as to whether them in-toeing is a normal developmental stage or something that may require treatment.
What would podiatry for my child's in-toeing involve?
At Chiropody.co.uk all initial assessments begin with a thorough medical and social history, as well as a history of the problem and any presenting signs and symptoms. After the assessment the podiatrists at Chiropody.co.uk will then have a look at your child walking (gait analysis) and assess the range and quality of movement of the foot, legs, knees and hips. All assessments and examinations are painless and are performed in a child friendly large open gym space, we have toys and visual aids to help your child feel comfortable if necessary. Once a cause of in-toeing has been established this will be discussed with you, treatment is not always necessary, but if this is the case then this will be discussed with you.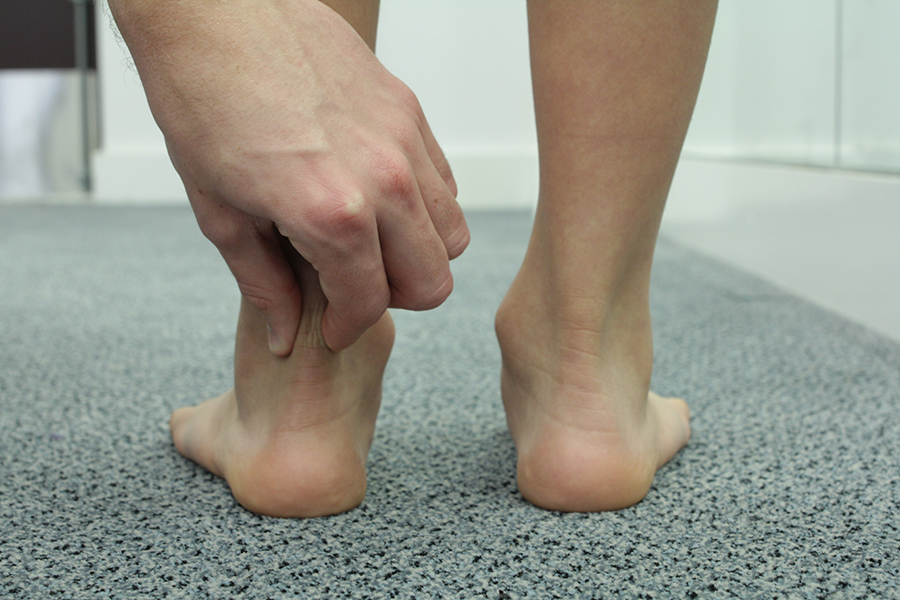 Summary
In-toeing is common amongst children and for many it is a normal part of the development process. If you are concerned about your child's in-toeing and you would like to know more information and the cause, then visit us at Chiropody.co.uk. The podiatrists at Chiropody.co.uk will assess your child so that the cause of them in-toeing can be established. You will then be given advice on what is normal for the age of your child. If treatment is required, then this will be discussed with you.
To arrange an assessment with one our podiatrists please email office@chiropody.co.uk or call 0330 088 4222.
Save 5% by booking an appointment online.

Find your nearest clinic
We have clinics located throughout the North West. We also provide a home visit service.
Find out more »

No waiting lists!
Tired of waiting for treatment? Be seen by a podiatrist today!
Find out more »

Not sure how we can help?
Speak to a podiatrist to find out how we can help. Call us on
0330 088 4222
.
Find out more »
We work with:

Individuals

Organisations

Health professionals
Get in Touch!

0330 088 4222

If you would like to speak to one of our specialists then please complete this form.
We are open 7 days a week