Discoloured nails
Download our Toenail Reconstruction information pack

Toenail
Reconstruction
The nail can turn a variety of different colours for a variety of different reasons. It is important to visit a podiatrist if you have discoloured toenails as they may be a sign of a more serious condition.
What are discoloured nails?
Discoloured nails are those nails that have changed in colour; this may be the whole nail or just parts. Nail discolouration may appear as spots, stripes, or half and half. Discolouration may affect one toenail or all toenails. A normal toenail should be a healthy pink colour.
What causes discoloured nails?
Discoloured nails have a variety of causes. Discolouration may be nothing more than a cosmetic concern; however they can indicate infection and serious health conditions. Nails that are discoloured may,for example, appear:
Green:

Green discolouration may indicate infection with pseudomonas (a bacterium). Typically green discolouration will appear secondary to paronychia, which is an infection of the skin around the nail. Green may also be a sign of fungal infection.

Yellow:

Yellow may be due to a fungal infection; chronic smoking; yellow nail syndrome (this is associated with peripheral lymphedema, chronic bronchitis and chronic pulmonary disease); medication (e.g. tetracycline's); nail polish.

Brown:

Brown may indicate a fungal infection. In people with psoriasis brown 'pitting' may appear on the nail. Brown spots on the nail may also indicate deficiency in vitamin C, protein or folic acid.

White:

White discolouration of the nail (leuchonycia) may be hereditary, a result of trauma, a result of fungi, chronic liver disease, renal failure and certain medications.

Black:

Black nails may occur as a result of trauma and this is the most common cause. However more uncommon causes include malignant melanoma.

Blue:

Blue discolouration is associated with pulmonary disorders.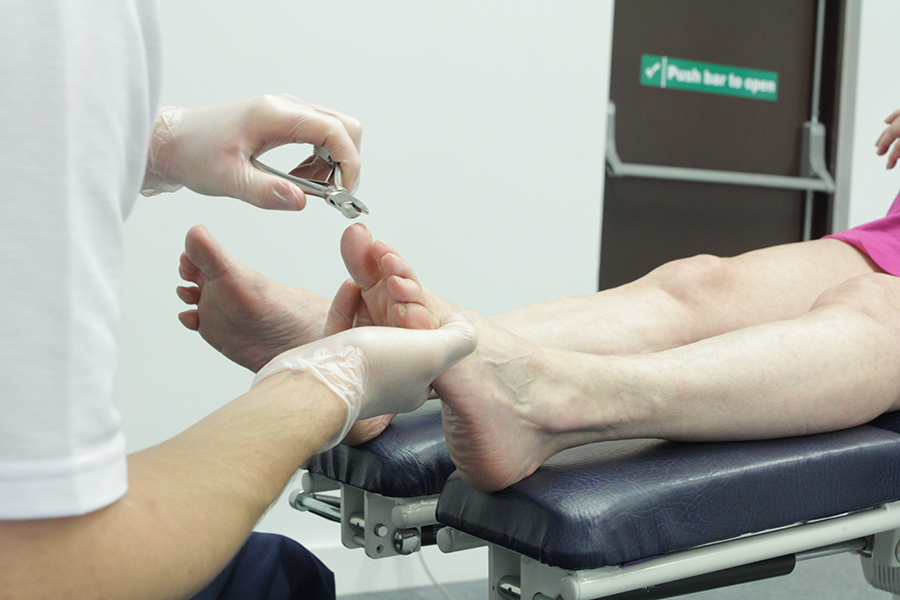 Who gets discoloured nails?
Discoloured nails can affect anyone at any age. Certain health conditions and medications can make a person more prone to certain discolouration.
How are discoloured nails diagnosed?
The cause of discoloured nails is diagnosed based on your medical and social history and an assessment by a podiatrist.
What would podiatry for discoloured nails involve?
Your podiatrist will first need to obtain a medical and social history, as well as a history of the problem (for example, when it started). They will examine the nails and both feet. The podiatrist may ask to look at your fingernails as well, as this can help with the diagnosis. If necessary the podiatrist may liaise with your GP.
Following the assessment the podiatrist will explain to you the reason for any discolouration and let you know if anything can be done.
Treatment for discolouration to the nail plate varies according to the cause.. Whilst some nail discolouration can be treated, others cannot, your podiatrist will give you information about this at the end of the assessment. Treatment for discoloured nails may include: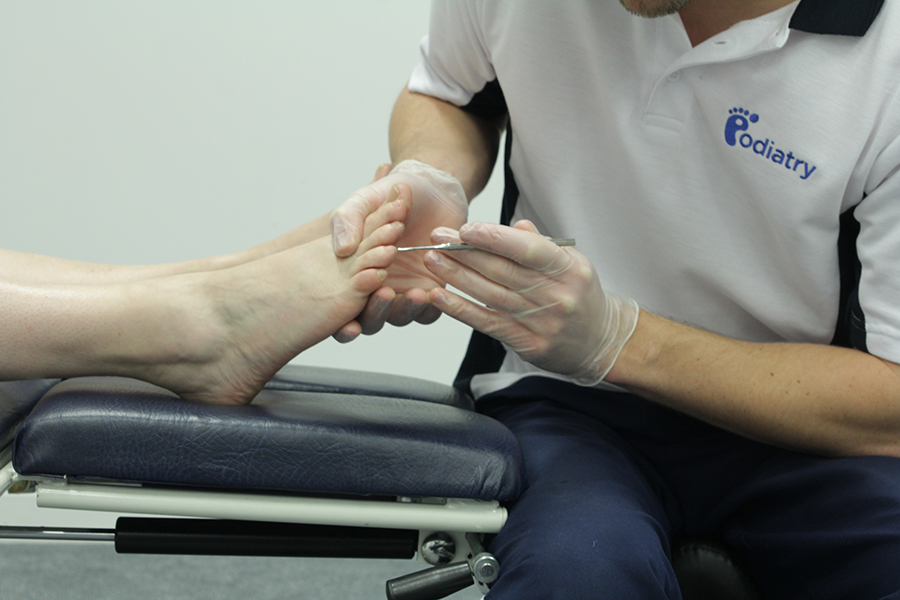 Summary
Nails can turn a variety of colours for a number of reasons. Discolouration can affect all nails or just one, and may appear as spots, stripes, half and half. Alternatively the whole nail plate may be affected. Discoloured nails can affect anyone at any age. The treatment for discoloured nails depends on the cause; not all nail discolouration may be treated.
Your podiatrist will advise you on the one most suitable for you.
To arrange an assessment with one of our podiatrists please email office@chiropody.co.uk or call 0330 088 4222.
Save 5% by booking an appointment online.

Find your nearest clinic
We have clinics located throughout the North West. We also provide a home visit service.
Find out more »

No waiting lists!
Tired of waiting for treatment? Be seen by a podiatrist today!
Find out more »

Not sure how we can help?
Speak to a podiatrist to find out how we can help. Call us on
0330 088 4222
.
Find out more »
We work with:

Individuals

Organisations

Health professionals
Get in Touch!

0330 088 4222

If you would like to speak to one of our specialists then please complete this form.
We are open 7 days a week