Education of condition
Patient education and empowerment is a vitally important role for podiatrists in the management of their patients. Education sessions seek to inform patients about their condition, treatment options, self-management and prevention.
The following is advice on common conditions and treatments provided by podiatrists as well as some common forms of advice and education.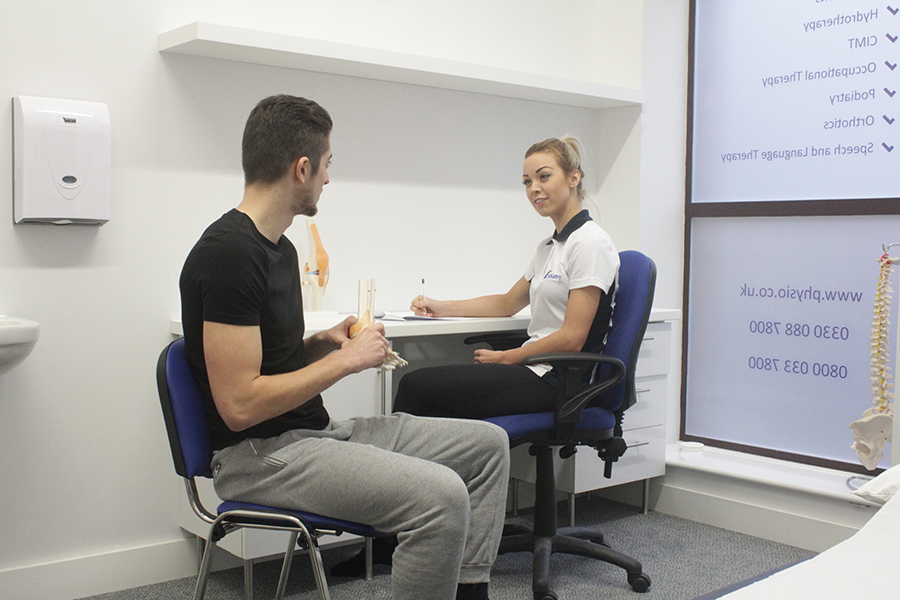 Common forms of advice and education
The following are some common areas that a podiatrist will be required to educate a patient in;
Advice on how to self-care - advice regarding patient self-care will involve information on how to best look after the feet in-between visits to the clinic. This may include how to cut nails correctly i.e. sat properly and comfortably, cut straight across and smoothed down with a nail file.
Footwear advice and education - a podiatrist will advise a patient on the correct type of shoes to wear to avoid problems developing or to help in the treatment of some conditions of the foot and lower limb. They will educate the patient on factors such as shoe material, strapping, sole thickness and size. Information will also be given on the correct type of shoe to wear for different activities. In many cases a podiatrist will advise against wearing slippers as they are a common cause of falls especially in the elderly population.
Advice about diabetic foot care - ensuring that the diabetic foot is cared for correctly is key to maintaining good health and well-being. Diabetes can affect the feet by reducing the circulation of blood, oxygen and nutrients to that area, making healing more difficult and increasing the likelihood of developing peripheral neuropathy (nerve damage). To ensure that complications do not arise as a result of the condition, a podiatrist may advise the patient to carry out regular checks on the whole foot for any changes or abnormalities, check the temperature of water before bathing and ensure it is not too hot, do not walk around barefoot, wear good fitting shoes and always speak up to a podiatrist about any changes in the foot.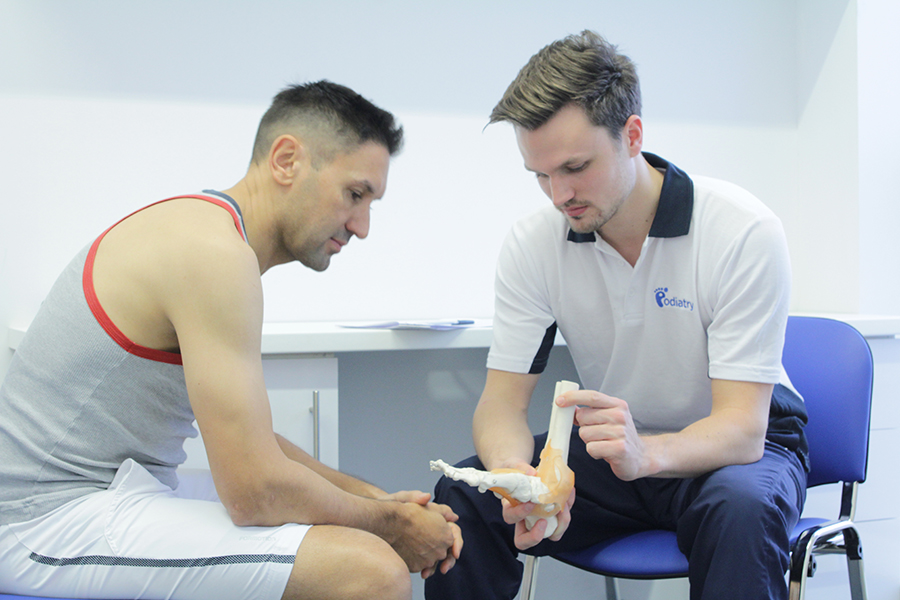 Common conditions and complaints in podiatry
The following are some areas within podiatry which will often require education and advice from a podiatrist;
Medical Conditions
Good general health and well-being is important to ensure good foot health. It is therefore important for a patient suffering from certain conditions such as diabetes or rheumatoid arthritis to visit a podiatrist regularly, receiving education about their condition and how it can affect their feet.
Biomechanical Issues
Some conditions and injuries at the foot and lower limb are the result of a biomechanical imbalance within the body. When this is the case a biomechanical assessment will often be carried out on the patient to establish the causative factors of the presenting problem. From this assessment the podiatrist will advise the patient on the best treatment to correct any problems. They will educate the patient on their style of walking/running as well as the correct footwear to use to prevent any further problems from developing.
Skin Problems
Skin problems are a common problem affecting the foot. This may be due to factors such as increased pressure and forces the feet are subject to, lack of care and lack of exposure to air and light. A podiatrist will provide advice on the correct moisturising regime to use and the correct precautions to take to prevent minor skin complaints developing into more serious problems such as ulcerations.
Nail Problems
Painful and/or unsightly nails are a common complaint in podiatry. Ingrown nails can be painful and in some cases can become infected while fungal nails can spread easily to other nails and other people. It is therefore important to seek advice from a podiatrist who will inform the patient on the correct measures to take to treat the problem and prevent it progressing. For example appropriate nail cutting techniques for thick fungal or ingrown nails.
To receive advice from one of our podiatrists please e-mail
office@chiropody.co.uk
or call
0330 088 4222
.
Save 5% by booking an appointment online.

Find your nearest clinic
We have clinics located throughout the North West. We also provide a home visit service.
Find out more »

No waiting lists!
Tired of waiting for treatment? Be seen by a podiatrist today!
Find out more »

Not sure how we can help?
Speak to a podiatrist to find out how we can help. Call us on
0330 088 4222
.
Find out more »
We work with:

Individuals

Organisations

Health professionals
Get in Touch!

0330 088 4222

If you would like to speak to one of our specialists then please complete this form.
We are open 7 days a week