Footwear review
Footwear reviews are a reliable and effective tool in the treatment and prevention of injury or overuse in the foot and lower leg.
What is a footwear review?
The type of footwear we use every day and during exercise has a significant impact on the way our foot functions and in turn can affect the likelihood of injury or other problems in the foot occurring.
A footwear review is the assessment of an individual's footwear in order to determine whether they are a contributing factor in a presenting problem or injury. This form of assessment can also be used as a preventative tool to avoid further injury from occurring or in the treatment of specific condition.
Who is a footwear review suitable for?
A footwear review will often be carried out as part of an initial assessment for all patients presenting with a particular problem. Therapeutic and bespoke footwear can be prescribed in the treatment of patients with a variety of different problems including diabetic neuropathy, rheumatoid arthritis and deformity.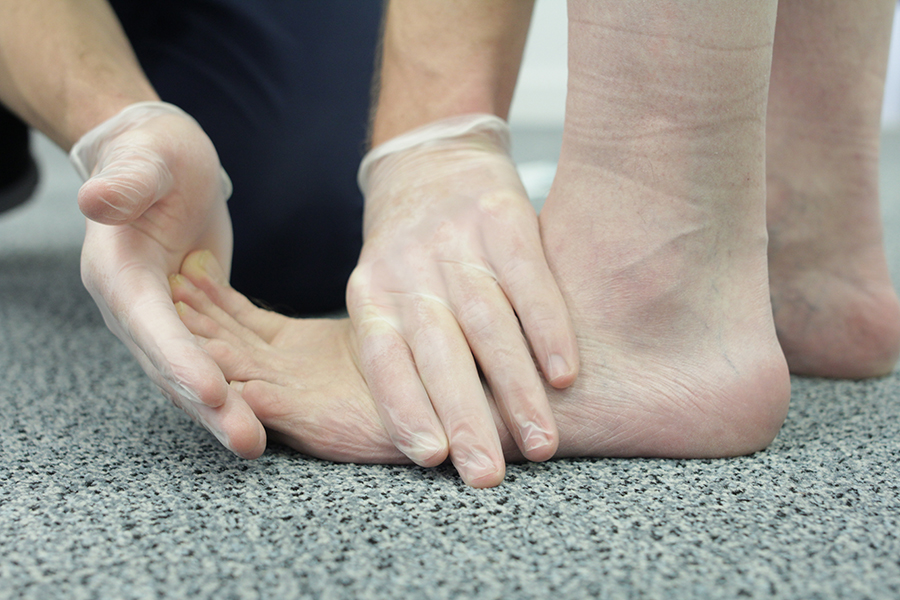 What does a footwear review involve?
The podiatrist may use various footwear assessment tools in the review of a patient's footwear. They will look at different factors that will determine the suitability of the shoes. They can include;
Length and depth of the shoe
Width and circumference of the forefoot
The width of the heel counter
Inside linings of the shoe ' are they soft or rough?
The material the shoe is made of
Does the shoe have strappings or laces?
Age of the shoe
Are there any wear patterns on the shoe?
Once the assessment is complete, the podiatrist will conclude whether footwear is a contributing factor to the patient's problem or if any changes need to be made to prevent future injury or problems occurring.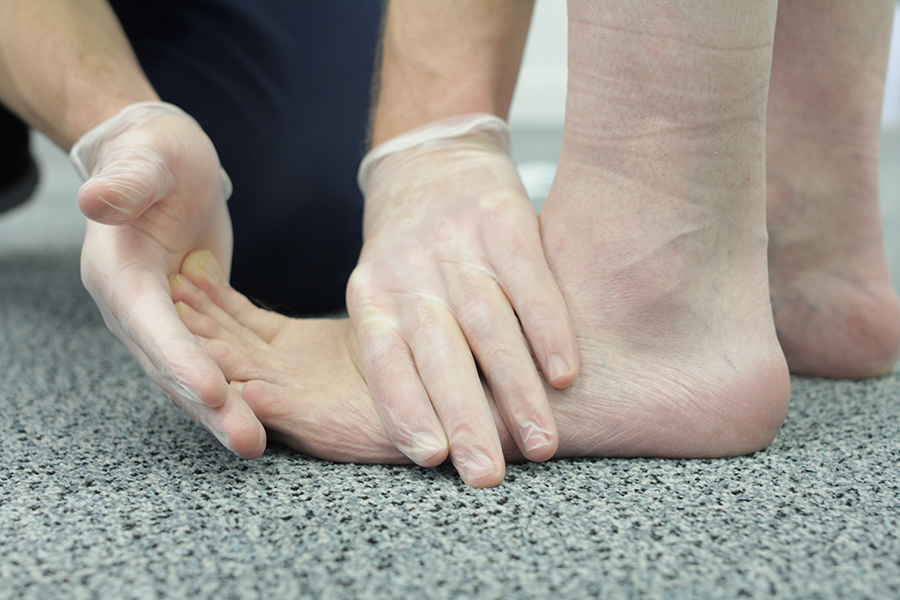 What are the benefits of a footwear review?
Footwear reviews are an extremely beneficial tool in podiatry. The following are a list of potential benefits;
Prevention of falls ' particularly in the elderly population. Avoiding loose fitting or open backed shoes can be effective in preventing falls
Prevention of ulceration in diabetic patients with sensory loss
Improved balance and stability
Prevention of the development of certain foot deformities
Reduction in pain and increased mobility in rheumatoid arthritis patients
Appropriate footwear can assist in the treatment of patients with hyperhidrosis (excessive sweating)
Bespoke footwear can be prescribed to patients with foot deformities
Protects the foot from damage caused by external factors
To receive a footwear assessment with one of our podiatrists please e-mail
office@chiropody.co.uk
or call
0330 088 4222
.
Save 5% by booking an appointment online.

Find your nearest clinic
We have clinics located throughout the North West. We also provide a home visit service.
Find out more »

No waiting lists!
Tired of waiting for treatment? Be seen by a podiatrist today!
Find out more »

Not sure how we can help?
Speak to a podiatrist to find out how we can help. Call us on
0330 088 4222
.
Find out more »
We work with:

Individuals

Organisations

Health professionals
Get in Touch!

0330 088 4222

If you would like to speak to one of our specialists then please complete this form.
We are open 7 days a week