Steroid injections
Steroid injections are preparations of a substance known as cortisone which are inserted into inflamed joints, the purpose of which is to provide relief from the painful symptoms associated with some conditions affecting the foot and lower limb.
What are steroid injections?
Steroid injections are an injection of cortisone given to provide relief from pain, swelling and inflammation when other forms of treatment such as orthotics have been found to be unsuccessful. Cortisone is injection into the affected joint along with a small amount of local anaesthetic to reduce any discomfort. The effects of the injection are usually noticeable after 2-3 days.
What podiatry-related conditions can steroid injections help with?
Steroid injections are especially useful in the treatment of the following podiatry-related conditions;
Arthritis
Plantar fasciitis
Achilles tendinopathy
Mortons neuroma
Bursitis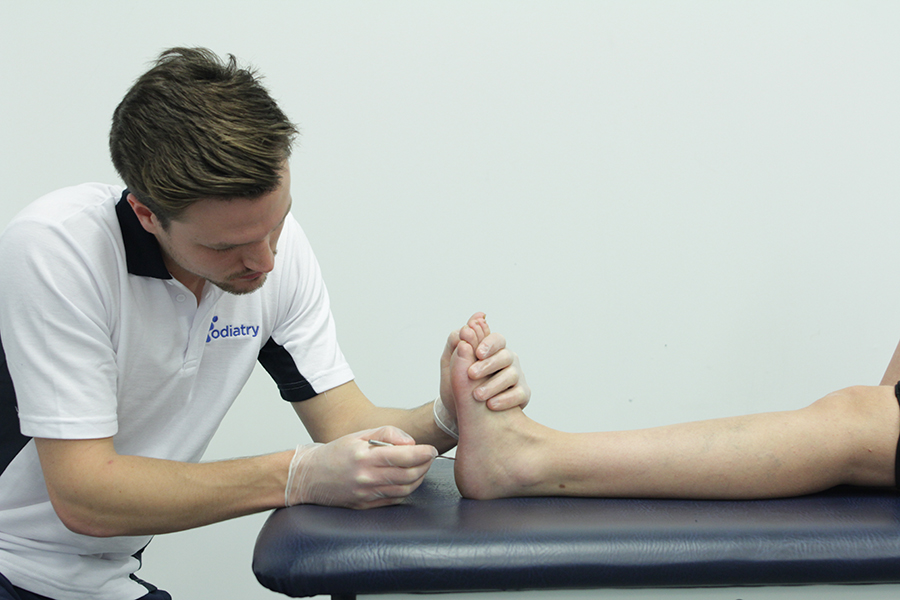 How do steroid injections work?
Steroid injections work by suppressing the immune system which reduces any inflammation in the area to provide relief from pain.
When an area becomes inflamed it becomes swollen, this swelling places increased pressure on the nerve endings at that site leading to pain and discomfort. The substance which is injected into the joint known as cortisone is produced naturally by the adrenal gland and has a strong anti-inflammatory effect on the body. It has the ability to prevent capillaries from becoming dilated and leaking blood into the surrounding tissues.
What are the benefits of steroid injections?
The following are some of the benefits of using steroid injections in podiatry;
Provides relief from pain and discomfort
Helps to improve range of motion at the joint
Allows the patient to return to normal activity if function has been compromised
Reduces swelling and inflammation at the affected joint
Steroid injections have fewer side effects than oral steroids
Has a faster onset than other anti-inflammatories
Similar treatments / services that could help?
Other treatments available include;
Stretching and strengthening exercises
Orthoses/insole therapy
Specific personalised advice and education
Padding and strapping techniques
Ultrasound therapy
To arrange an appointment please e-mail
office@chiropody.co.uk
or call
0330 088 4222
.
Save 5% by booking an appointment online.

Find your nearest clinic
We have clinics located throughout the North West. We also provide a home visit service.
Find out more »

No waiting lists!
Tired of waiting for treatment? Be seen by a podiatrist today!
Find out more »

Not sure how we can help?
Speak to a podiatrist to find out how we can help. Call us on
0330 088 4222
.
Find out more »
We work with:

Individuals

Organisations

Health professionals
Get in Touch!

0330 088 4222

If you would like to speak to one of our specialists then please complete this form.
We are open 7 days a week